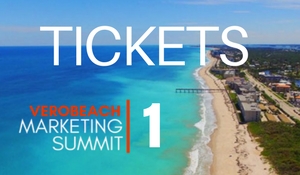 Boost Your Business. Reserve Your Seat Today!
Seats as low as $25. Pick and choose which tracks mean the most to you.
---
"The Vero Beach Marketing Summit is an incredible event that every business owner should attend. All the successful entrepreneurs live by the principle that continuous learning is the key to success. What better way to learn how to make your business flourish and stand out in the saturated market than from a group of local marketing professionals who know our local market? See you there!" -Daria Verola
---
Sign up at this event for Free professional headshots to use with your ads, social media profile and email signatures.
---
Hi there, I'm 
Daria
 Verola, but I often go by Dasha. My journey into photography started in my teenage years. I still remember the excitement I felt the day I got my first DSLR camera and had Photoshop installed on my computer over a decade ago. This excitement has never left and has actually grown the more I learned about the art of photography. I was born in Russia, grew up in Belarus and went to a linguistic university there. I moved to the USA in 2011 and became a photographer with Verola Studio, which is when I fully embraced my new career. I love photography and my true passion is in the world of business. My experience in lifestyle and professional photography as well as years of managing social media for Verola Studio have equipped me to create great photographic content for businesses that help them attract their "ideal clients" and showcase their work. Now I am teamed up with my husband, Nick Verola, to create great photo and video campaigns and top quality content for all the businesses out there.
---
Vero Beach Marketing Summit Schedule
Day 1 – Schedule – Thursday, September 7th
Beginner to Intermediate levels. View Full Schedule.
Day 2 – Schedule – Friday, September 8th
Intermediate to Advanced levels. View Full Schedule.